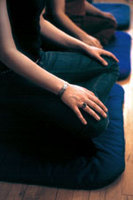 Date:
Thursday 13 February 2020 (19:00 -21:00)

Location:
Shambhala Meditatie Centrum Arnhem
Contact person : Shambhala Arnhem
Welkom op onze open avonden - anderhalf uur meditatie. Met op de oneven weken een korte lezing over het trainen van de geest, "Lojong" in het Tibetaans, aan de hand van de spreuken van de Indiase meester Atisha.
Iedere donderdagavond
Iedereen is welkom!
Toegang is gratis. Een donatie is altijd welkom. Registratie is niet nodig.
19.00 – 19.30 Inloop
19.30 – 21.00 Zit- en loopmeditatie (of yoga) in de meditatieruimte
Na afloop is er thee.
Kom je voor het eerst?
Als je voor het eerst komt mediteren, bieden we je graag een meditatie-instructie-gesprek aan. Je doet er goed aan ruim voor 19.30 uur aanwezig te zijn. Een meditatie-instructeur zal je (voor of tijdens de avond) uitleggen hoe wij bij Shambhala mediteren en ingaan op eventuele vragen.
Programma van de avond
De open avonden worden ingevuld met drie blokjes van zitmeditatie, afgewisseld met loopmeditatie of yoga oefeningen.
Lezingen voor het trainen van de geest
Op oneven weken organiseren wij een korte lezing over de zogenaamde "Lojong" (een Tibetaans woord) spreuken voor het trainen van de geest en het ontwikkelen van liefdevolle vriendelijkheid.
Omdat er vrije inloop is, mag je ook eerder weggaan dan de formele eindtijd.