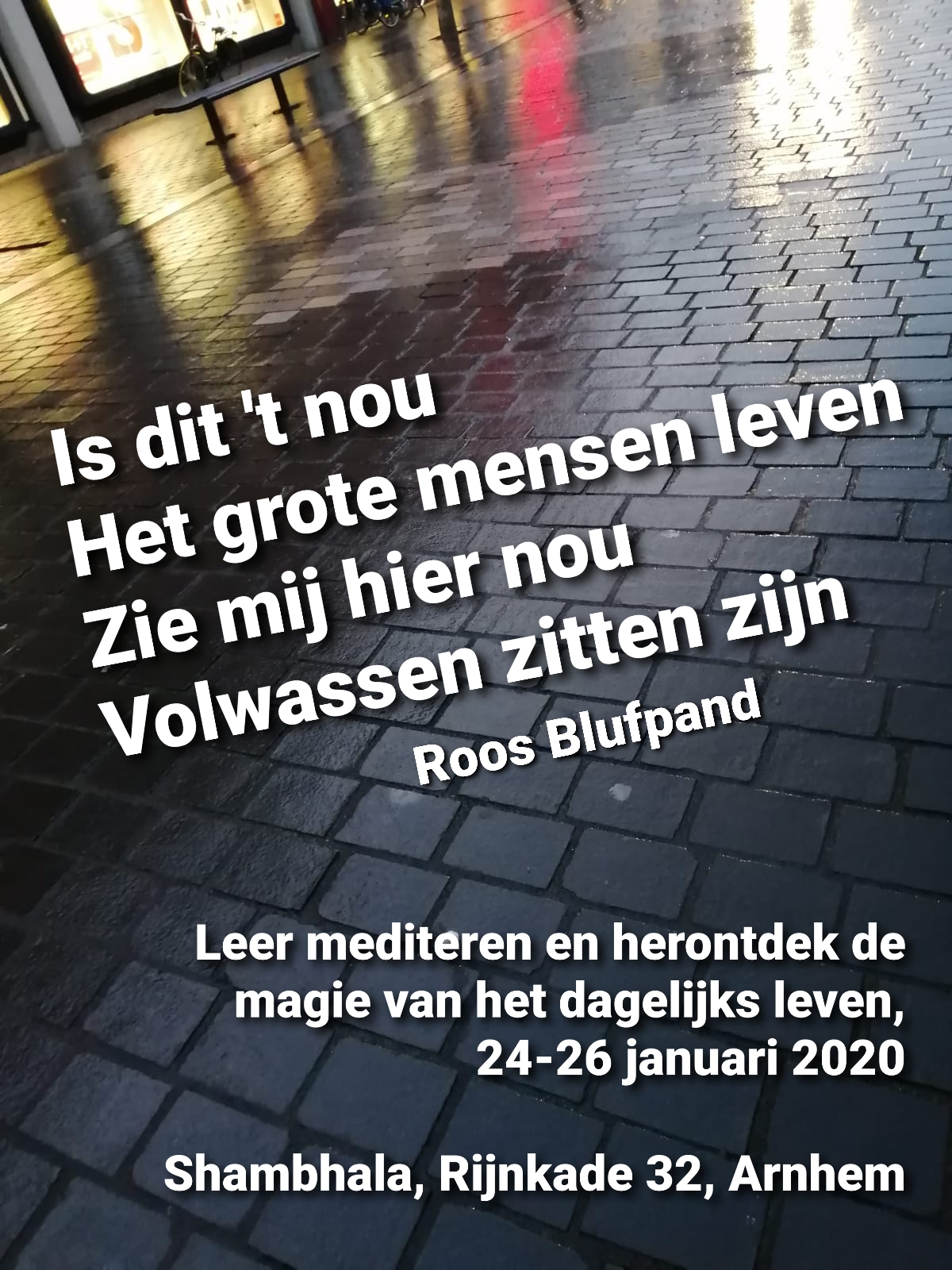 Date:
Saturday 25 January 2020 (09:30 -17:00)
Sunday 26 January 2020 (09:30 -17:30)

Location:
Shambhala Meditatie Centrum Arnhem
Teacher :
Acharya Marianne Bots
Herhalers/Jongeren/Minima

:
€
75
Wat drijft je nog, als je eerste liefde eindigt? Waar leef je voor, met je carrière en je hypotheek? Was dat het dan, als je vereenzaamt en steeds moeizamer beweegt? In dit weekend onderzoeken we onze twijfel en pijn, maar ook onze wakkerheid en goedheid.
Of we nu in een paleis wonen of zwerven op straat - iedere intelligente, gevoelige mens komt oog in oog met vragen als: Is dit het nou? Waar gaat het om? Waar gaat het echt om? Voor mij? Voor ons samen?
Het pad van krijgerschap en meditatie herstelt ons contact met de magie van het dagelijks leven. Het beantwoordt de grote vragen van het leven niet met een filosofisch ideaal, maar herinnert ons wel aan een fundamentele wakkerheid die ons raakt. De kunst van het mens zijn is een pad van steeds opnieuw contact maken met wat er is.
Op 25-26 januari biedt Shambhala Arnhem het eerste weekend aan van een serie 'het hart van krijgerschap'. Tijdens dit eerste weekend maken we kennis met de beoefening van zit- en loopmeditatie. Lezingen en uitwisseling ondersteunen onze ontdekkingstocht. We krijgen zicht op de principes van het pad van krijgerschap, waarin we zowel zachtmoedig als dapper zijn. Zo leren we dat al onze ervaringen een fundamentele energie bevatten. Deze 'fundamentele goedheid' is eigen aan de dingen zoals ze zijn en vormt de basis van onze aangeboren, onvoorwaardelijke natuur.