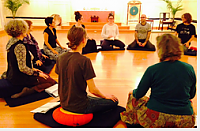 Date:
Thursday 13 May 2021 (19:00 -21:00)

Location:
Online Via Zoom
Coordinator :
Katrina Woolley
Over the years our community has benefitted from the London Shambhala Meditation Centre in many diverse ways. The Practice and Education team want take full advantage of the fruitful moment of change we are in, as an opportunity to be genuinely open to the possibilities of how we can fill our space and schedule in future. Since the LSMC has decided to withdraw its allegiance to Sakyong Mipham Rinpoche as leader and main teacher, but not from the Shambhala community, the next step is to decide what our teaching and events look like when this is not being dictated from above.
We would love as many people involved with the centre as possible (members, non-members and former members alike) to join us in this conversation. We want to hear how the centre can serve you. What has been valuable to you? What are you interested in? What do you want to be kept, changed or developed? How do you want to practice, and for teaching to be offered? Are there things you might want to offer?
We would also like to hear whether there are spaces within Shambhala (or outside it) you have felt worked particularly well - That felt particularly nurturing, safe or productive? Perhaps there are innovations in teaching or practice that you would like to share or hear about.
Here is a short video we made from some of our members talking about their expereinces of the teachings and practices at Shambhala London. https://www.youtube.com/watch?v=B9iC9pt2DmU

Structure of the event:
We will have open smaller group conversations in breakout rooms focusing first on "What do we want to be presented?" followed by "How do we want it to be presented?"
What comes up from these discussions will help form the basis for the Practice and Education team to plan what and how to programme events in the near future, but also to create a template for the London Shambhala Centre's offerings moving forward.
Zoom details:
The conversation will take place on Zoom from 7-9.30pm on the 13th May. Please get in touch on [email protected] if you have any access concerns or questions.
Use the following link to join:
https://us02web.zoom.us/j/7323688857?pwd=bnBaRjdjVDdhYWs1R0N3MVozMzlzUT09
Meeting ID: 732 368 8857
Passcode: 822748
London is not alone in looking at how to curate it's offerings, there are also European meetings happening that you might like to join: https://shambhalaonline.org/community-engagement initiative/