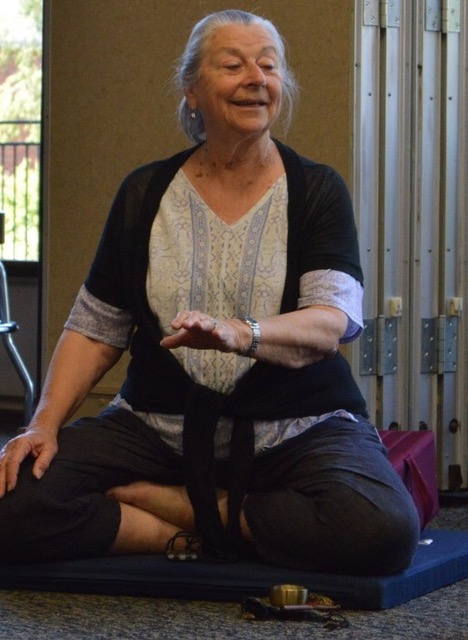 Date:
Saturday 8 May 2021 (17:00 -19:30)
Sunday 9 May 2021 (17:00 -19:30)

Location:
Wien Shambhala Meditationszentrum
Ein Workshop für Meditierende von Lee Worley - a workshop for meditators with Lee Worley
Samstag, 8 Mai und Sonntag 9.Mai 2021, jeweils von 16:30 bis 19:00

Online Veranstaltung – Begrenzte Teilnehmerzahl (18 Personen)

Durch Präsenz-Improvisationen und die Philosophie von Raumgewahrsein feiern wir die vielen Wege uns mit unserer inneren und äußeren Welt zu verbinden. Zoom mag für viele von uns ungewohnt sein, aber es kann ein Partner werden um Gewahrsein und einen Sinn für Spielerisches zu kultivieren.
Für die Teilnahme ist ein Laptop, bequeme Kleidung und ein bißchen offener Raum für die Bewegungarbeit wichtig.

Workshopsprache Englisch, Übersetzung ins Deutsche ist möglich. Der Link zum Workshop erfolgt nach Anmeldung.

Lehrerin: Lee Worley war eine der Gründungsmitglieder der Naropa-Universität. 1976 lud Chögyam Trungpa sie ein, eine auf kontemplativen Prinzipien basierende Abteilung für Theaterstudien aufzubauen. Darüber hinaus hat sie Trungpas Übungen des "Mudra-Raum-Gewahrseins" in den Programmen an der Naropa Universität in den USA, Kanada und Europa unterrichtet. Professor Worley begann ihre Laufbahn als Gründungsmitglied, Schauspielerin und Regisseurin bei Joseph Chaikins Open Theater of NYC und unterrichtete Schauspiel an mehreren Universitäten der USA. Sie hat zwei Bücher herausgegeben: "Coming form nothing- the sacred art of acting" and "Teaching Presence".

Preis: Frühbucherpreis bis 28.4. 55.-
Normalpreis und für Personen, die andere, die nicht soviel zahlen können für die Teilnahme unterstützen wollen: 70.-

Information und Anmeldung: Sabine Putze ([email protected])
---
May 8 & 9, 2021
Time: each day 16:30-19:00
Directed by Lee Worley
Online Workshop – The number of participants is limited to 18
Using presence improvisations and space awareness philosophy we will celebrate the many ways of connecting our inner and outer worlds. Zoom may feel unfamiliar to many of us, but it can also become our ally iin cultivating awareness and a sense of play.
Please plan to work on a lap top computer, wear comfortable workout clothes and create a small open space in your room for movement work. The zoom-invitation will be sent after registration.
Teacher: Lee Worley was a founding faculty of Naropa University. In 1976 Chogyam Trungpa invited her to develop a Theater Studies department based on contemplative principles. In addition she has taught Trungpa's performance method, "Mudra Space Awareness" through Naropa's Religious Studies, Contemplative Education, Writing, and Traditional Arts programs and throughout the US, Canada and Europe. Professor Worley began her performance career as a founding member, actress and director with Joseph Chaikin's Open Theater of NYC and taught acting at Sarah Lawrence College and the New School for Social Research. Her first book, Coming From Nothing: the Sacred Art of Acting outlines her philosophy of contemplative performance. More recently a second book, Teaching Presence: Field Notes for Players contains essays and exercises created for the MA Contemplative Education curriculum. Lee holds a B.A. in English Drama from Mount Holyoke College, is a graduate of New York's Neighborhood.
Price: Early bird till 28th of April : 55.-Euros, Later or for partons: 70.-
Register and information: Sabine Putze ([email protected])