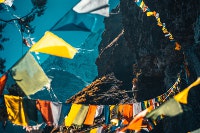 Date:
Saturday 2 September 2023 (09:30 -17:00)

Location:
Main meditation hall
A chance to gather as a community and practice together.
Day Retreat Series: Cultivating Open Heartedness
Our monthly day retreats offer a day to deepen meditation practice, share contemplative lunch and tea, and hear a Dharma talk or teaching. They are taking place in person at the Centre in Clapham. This year's day retreats will focus on cultivating open heartedness. Drawing on the beloved set of ancient slogans known as Lojong or mind training, these retreats will highlight the practical application of these aphorisms in our daily life. They can be attended together as a series or as individual days.
The retreat days are open to people in the early stages of exploring the spiritual path as well as those who have already studied this material to some extent. Anyone interested in attending, who has not yet begun to meditate, is welcome to do so following attendance at one of our Wednesday night open meditation sessions. There, one can receive an introduction to meditation practice.
Dates
1st Apr 2023 Creating a good foundation for meditation practice
29th Apr 2023 Balancing compassion with wisdom
3rd Jun 2023 Self-compassion
1st Jul 2023 Taking refuge and refuge vow ceremony
2nd Sep 2023 Extending compassion to others & preventing burnout
7th Oct 2023 Working with difficult people
4th Nov 2023 Gratitude and appreciation
2nd Dec 2023 Training wholeheartedly without reward (incl. Bodhisattva vow)
Timings

Arrival from 9.30am, sitting will start at 10.00am, the day closes at 5pm.
Cost
The cost is £35 and includes lunch and tea. A concession fee of £20 is available to anyone that has an annual income below £20,000. Please contact [email protected] to arrange a concession or with any other questions.
We do not want cost to be a barrier to anyone attending and understand that these are challenging times financially for many people - please do not hesitate to contact us if you require a further concession.